i miss january 15, 2006.
i decided that it was the best night of my life. and it was one year and sixteen days ago. slightly depressing.
so many amazing things happened in result of that night. but alot of those things are also gone.

i miss the orriginal techno dance party.
i miss passing out on chris's fouton while him and jon play ninja gieden for 7 hours.
i miss driving around with the boys on rainy days.
i miss matt.. i wish he didn't join the air force.
i miss having chris home, and going over there at the drop of hat and him just being there.
i miss having jake michigan ranger home all the time to play battle ship with me.
i miss chris bringing me hot chocolate every time a stupid boy broke up with me, or i was just having a bad day.
i miss feeling completely loved.
i miss every crazy moment spent with rebecca.
i miss mr. hutchinson locking me in the bathroom three times.
i miss jon and chris leaving me fun messages in "meat wad" voices.
i miss not giving a damn about what i looked like when i hung out with the boys.
i miss chris driving over here just give me a hug, even when he had to leave for chicago in twenty minutes.
i miss chris and jake being here to tell me what to do when it comes to guys.
i miss cramming 20 people in chris's basement.
i miss rebecca mollesting me in her sleep on crazy drunken nights.
i miss having a good boyfriend.
i miss watching aqua teen with drew.. and having our first "romantic moment" durring it.
i miss taking naps with rebecca.
i miss just sitting on the porch with chris and talking till it was time for us to go to school.
i miss every single moment spent with every single person who quickly became the people i love most in this world.

why did tose moments have to die? why did everyone have to leave?
i just wish that we had the same PAZAZZ we used to. where we would just be like "hey, let's go on an escapade tonight!" and it would be the best night of our lives.
i just miss being happy. and it's not even that i was happy all the time but when i wasn't.. my best friends always had some way of being completely amazing, and made everything better.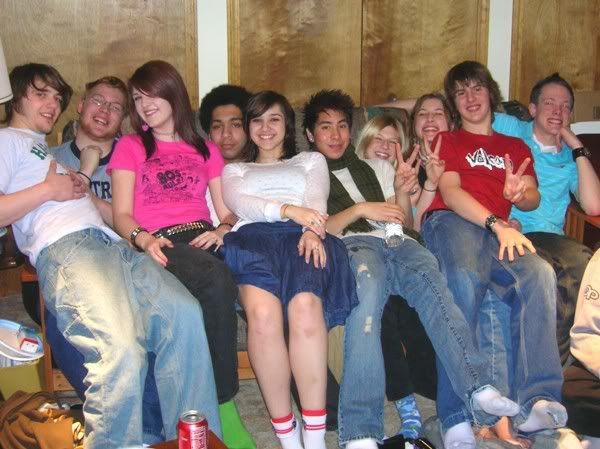 i miss this more than anything.